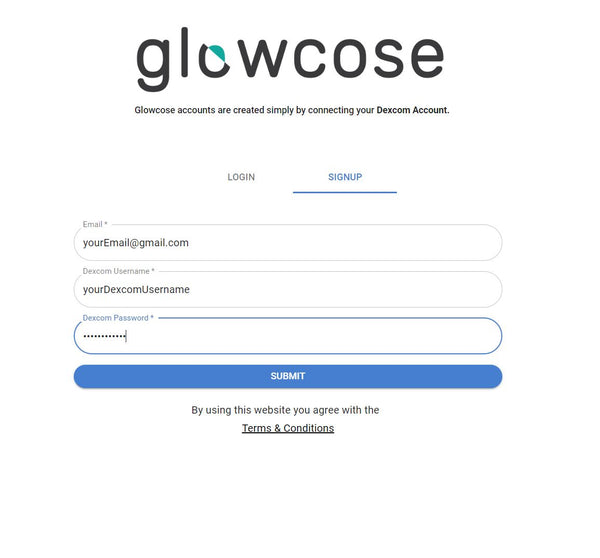 Step 1: Web app setup.
Visit glowcose.me and sign up using your Dexcom credentials. 

Note: Please make sure you use the device wearer account credentials not the caregivers. This can be found within the Dexcom app on the wearers mobile device.

You must have sharing enabled within the Dexcom app.
Note: Android users must have 1 follower for the share option to appear in the Dexcom app.

Verify your Dexcom credentials with the following:
https://uam1.dexcom.com (US Based)
https://uam2.dexcom.com (Outside of the US)
Step 2: Get device code.
Make note of the "Device Connection Code" from the web app interface displaying your current blood glucose reading.

Your Device Connection Code is unique to you and will be required to connect your Glowcose light to your Glowcose web app data. One device code can be used with multiple glowcose devices.
Step 3: Plug in your device.
Use the provided USB Micro cable to power your glowcose from nearly any USB plug (phone charger, laptop, TV, battery power pack, etc).
Step 4: Setup WiFi connection.
After a moment or two, your glowcose will begin changing colors. This indicates 'pairing mode'.
Use your mobile device to connect to the WiFi network named "GLOWCOSE". 
Step 5: Configure glowcose.
It may take a a few seconds for the Configure Glowcose page to display while it searches for available networks. 
If your mobile device does not pop up with the Glowcose setup page after connecting to the GLOWCOSE network, use your browser (chrome, safari, etc) and visit any website (glowcose.com) or enter 192.168.4.1 into the URL bar. 
Step 6: Enter device code.
After selecting your home WiFi network and entering the password. Use your unique Device Connection Code from Step 2 and enter it into the Device Code field.
Enter your preferred High, Target, and Low mg/dl values.
If you'd like Glowcose to Flash when the user's BG readings are below the Low setting, enable the Low Flash Alert check box.
Step 7: Click save.
Setup is complete! 

Glowcose will remember your WiFi credentials and connect automatically when moved within range of your WiFi Network. Take a look at the FAQ below for additional tips, information, and troubleshooting help.